Archlyn Buker Clot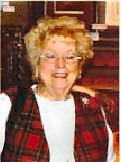 ARCHLYN BUKER CLOT, 69, of Pinecrest, and born in Miami, died Dec. 22, 2000 with her family at home. She will be deeply missed by her family, friends and the community.

The daughter of Charles E. and Nellie T. (Hamlett) Buker, Archlyn was a lifetime native Miamian. Archy graduated from Miami Jackson High and then went on to the University of Miami. Archy attended graduate school at Emory University in Atlanta, Georgia. She was a member of the Zeta Tau Alpha sorority at the University of Miami campus.

On June 14, 1958, she was married to William A. Clot in Miami. Mr. Clot is an aircraft industry executive. Archy was a lifelong homemaker and civic volunteer. Governor Bob Graham appointed her as Chairperson to the Statewide Human Rights Advocacy Committee in 1983. She served as an officer for the South Florida Kidney Foundation. She served as President of the Woman's Cancer Association of the University of Miami, where she has contributed her time fund raising for cancer research over the last 30 years. Archy has raised over $300,000.00 in donations alone during the last decade at the world renowned Holiday Light Display put on by her and Mr. Clot at their Pinecrest home.

Archy was a member of Mensa. She was a founding member of Royal Palm Tennis Club. Her favorite hobby was raising, rescuing and showing dogs of all kinds. Afghan Hounds were her preferred breed. She served as President of both the Afghan Hound Club of America and the Afghan Hound Club of South Florida. In recent years, she became a respected American Kennel Club dog show judge for other breeds. She judged dog shows all over the globe. She also enjoyed playing contract bridge and was a life master.

She is survived by her beloved husband of 42 years Bill; her loving son, Josh (Diane); her adoring grandson, Joshua; and many nieces and nephews. She was pre-deceased by her only sibling Charles Edward Buker, Jr.



The Light of God surrounds her.
The Love of God enfolds her.
The Presence of God watches over her.
And, all is well.